Braeburn Apples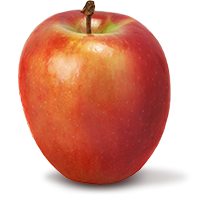 Mother Nature gifted the world with Braeburn apples in a chance seedling in O. Moran's orchard in New Zealand back in 1952. Chance seedlings rarely result in commercially-viable fruits, but Braeburn was an exception to the rule. Braeburn's have a reddish hue with yellow to light green undertones, a creamy to golden-colored interior along with a robust, sweet-tart flavor with a hint of nutmeg and cinnamon.
Suggested Uses
When are Braeburn Apples in Season?
Braeburn apples are harvested in Washington State in September and October and are available from September through June.