Golden Delicious Apples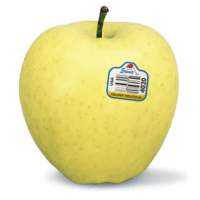 Despite its name, the Golden Delicious is not to be confused with Red Delicious. Though both are delicious (hence the name) they are not closely related. Interestingly, Golden Delicious has no clear parentage; the cultivar was discovered in the early 1900s on the Mullin's family farm in Clay County, West Virginia. This thin-skinned apple is mellow and sweet, with a yellow exterior and fine, silky interior with white flesh.
Suggested Uses
When are Golden Delicious Apples in Season?
Golden Delicious apples are harvested in Washington State in September and October, and are available year-round.