Honeycrisp Apples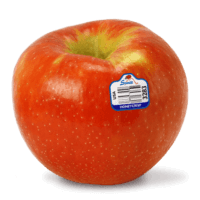 Sweet, juicy and crisp since 1960, Honeycrisp apples were developed at the Minnesota Agricultural Experiment Station's Horticulture Center at the University of Minnesota. The parents of Honeycrisp are Keepsake and MN1627 (an unreleased variety from University of Minnesota). Honeycrisp is an apple with larger cells, making for a juicier bite. Looks are not deceiving for the Honeycrisp; on the outside, Honeycrisp apples are beautiful blushed scarlet color over hues of yellow. Inside is a creamy, white flesh that breaks apart easily when eaten or sliced. Honeycrisp apples are juicy with a refreshing sweetness similar to fresh apple cider.
Suggested Uses
Snacking
Salads
Juicing
Baking
Freezing
 When is Honeycrisp in Season?
The best time to find Honeycrisp apples are from September through April. To maximize freshness, store Honeycrisp apples in the refrigerator or a cool, dry place.